Concert Kings of convenience à Ramonville saint Agne le 28 avril 2023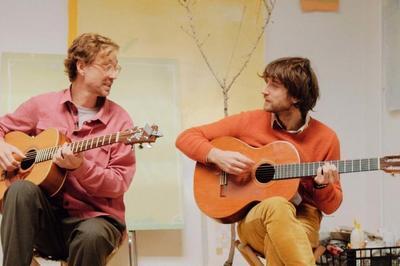 Le Bikini

Plus d'infos sur le concert Kings of convenience à Ramonville saint Agne
You will, of course, be wondering what took Kings of Convenience so long. When 12 years elapse between albums, you might well assume that there has been some dramatic rift. And when you learn that an album has been recorded across five years in five different cities, you might expect something fiendishly ornate, larded with fancy production and guests galore.
But neither of those things are true. Peace or Love, Kings of Convenience's fourth album, sounds as fresh as spring: 11 songs about life and love with the alluring beauty, purity and emotional clarity that you would expect from Kings of Convenience. It's just that, for Eirik Glambek Bøe and Erlend Øye, making music together is never a straightforward business.
It seems like a comeback, of course, but it doesn't feel like a comeback,? says Eirik. It's been a very slow-burning project. We've fooled ourselves many times into thinking that now we know how to make records but the moment we're in the studio we realise that recordings are really about capturing magic. It's very, very hard to make something sound simple.?
Eirik and Erlend met at school in Bergen, Norway and first performed together in the rock band Skog before breaking off and forming a duo in 1999. Their unimprovably titled 2001 debut, Quiet Is The New Loud, made them inadvertent trailblazers of a new wave of intimate, acoustic music. We told our record label we'd need two weeks and it took three months, and then it just went downhill from there,? Eirik laughs. Riot on an Empty Street came out in 2004 and Declaration of Dependence in 2009.
Both men have a wry sense of humour and a winning emotional frankness but from the start they had very different aspirations. Eirik loved the studio while Erlend craved the road. Eirik chose to stay in Bergen and start a family (he has three children) while Erlend preferred to travel the world. He toured clubs as a DJ, solo artist and frontman of the pop group the Whitest Boy Alive until he developed tinnitus a decade ago, but the wanderlist remains.
I tend to diagnose people,? says Eirik, who has a degree in psychology. Erlend has this condition called neophilia: he's in love with new experiences. I'm in love with discovering new qualities within what I thought I already knew.?
We have two completely different ideas of how to live life,? agrees Erlend. That's what makes it difficult. If we were both nomads or both family men, it would be much easier. But we're still together!?
Following Declaration of Dependence, Kings of Convenience continued to tour in new and rewarding ways. In 2012, they played A-Sides/B-sides shows: two totally different sets on consecutive nights in the same city. In 2015, they toured Quiet Is the New Loud in its entirety, framed by an onstage interview. Erlend settled in Siracusa, Sicily eight years ago while Eirik remained in Bergen but they were never out of touch for long.
By January 2016, Kings of Convenience had written almost all of the songs on Peace or Love and held their first recording session while on tour in Santiago, Chile: the bossa nova-flavoured version of Angel you hear stems from that very first session. That autumn, they debuted the songs to fans on the Unrecorded Record Tour. Then things got complicated.
We recorded the album about five times,? says Eirik. A song has to be played with a certain ease yet everything needs to be right. It has to sound like we are enjoying ourselves and also communicating an emotional presence. To get all those qualities in one take is very hard.?
Their first attempts at songs are fresh but imperfect. Then the more they finesse the performances, the less excited they feel, so they have to take a break to avoid being bored and start all over again a few months later. We are chasing a moment that is inspired and rehearsed at the same time,? says Erlend. We're trying to find that sweet spot.?
Between sessions, they pursued other projects. We need to allow each other the freedom to work on what we want,? says Eirik, who released an album with his electronically tinged project Kommode in 2017. That's probably why Kings of Convenience has lasted so long.? He also teaches architectural psychology, applying his skills to design and urban planning, and successfully campaigned against a plan to build a motorway through Bergen. Erlend, meanwhile, released a solo album, Legao, in 2014. When the coronavirus lockdown put paid to some Whitest Boy Alive reunion shows in Mexico last year, he made a sunny, intimate album with drummer Sebastian Maschat called Quarantine at El Ganzo.
As the Peace or Love sessions progressed, other musicians joined the album. Alexander Grieg, the great-grandnephew of 19th century composer Edvard Grieg, plays bowed double bass on [SONG TK], recorded next door to his famous ancestor's house in Bergen. Growing up in a town where composers are seen as very respected members of society is one of the reasons why there is so much music here,? says Eirik.
The up-close heartbreaker Love Is a Lonely Thing was recorded at Nils Frahm's Funkhaus studio in Berlin with Canadian singer-songwriter Leslie Feist, who previously appeared on Riot on an Empty Street and featured Eirik on her 2007 album The Reminder. Feist also sings on the sunlit love song Catholic Country, which was written with British folk trio the Staves.
Leslie helped us a lot,? says Erlend. She put the focus somewhere else: suddenly we were three. As the album is so sparse it's very important to have that other voice in there.? Other songs were recorded in Siracusa and Gothenburg, Sweden.
The core of the duo's sound remains two voices and two acoustic guitars. Eirik compares their self-imposed restrictions to the austere Danish film-making movement Dogme 95. Modern life is so full of options. You can go anywhere. By limiting the means we can use, paradoxically it creates a sense of freedom.? Within that frame, though, they draw inspiration for rhythms, melodies and chords from all over: jazz, Brazilian music, house music. We've never seen ourselves as a folk band but it sounds like folk to the untrained ear,? says Eirik.
The name Peace or Love, supplied by a friend, continues the duo's tradition of intriguingly paradoxical album titles. We're so used to the expression ?peace and love' but at some point you have to ask yourself, ?Can I have both?'? says Eirik. And the truth is: probably not. It's an autobiographical album. It's a summary of the difficulties we have been facing in our lives in the last eight years.?
These 11 songs have the emotional depth and hard-won wisdom that comes with age. Erlend has lost both his parents in the years since his last album. Recently, he cemented a serious relationship just as Eirik's 21-year marriage was coming to an end. Suddenly things have turned upside down,? Eirik observes.
In the final song, Washing Machine, Erlend sings: It's true I'm more wise now than I was when I was 21/ It's true I've less time now than I had when I was 21.?
When we were young I always felt a bit dumb writing serious songs because you wish you'd gone through a little bit more,? he says. Then life gives you a lot of resistance and you don't have to worry anymore about having something to write about.? He quotes an old proverb: Experience is the comb life gives you when you've lost all your hair.?
Peace or Love is the sound of two old friends exploring the latest phase of their lives together and finding new ways to capture that elusive magic. If it took a lot longer than they expected, well, so be it. The results justify the process. We've frustrated a lot of people in the music industry because we refuse to fit into the framework of how things are done,? says Eirik. But that's why I still love what I do. I'm not jaded.?
Ask for Help, an exquisitely tender hymn to interdependence, seems to sum up Eirik and Erlend's unusual, unbreakable bond in its fourth decade: Wouldn't it be nice if you win/ To know you couldn't have gotten there on your own?/ Wouldn't it be nice if you lose/ To have your own choir to sing the blues with you?? Peace may be hard to find but you can hear the love.
Réservez vos places de concert pour : KINGS OF CONVENIENCE - LE BIKINI
Le prix des places est à partir de : 29.00 €
Date : vendredi 28 avril 2023
Vous disposez par ailleurs du service e-ticket pour imprimer vos billets à domicile dès la fin de commande pour KINGS OF CONVENIENCE.
Tous les artistes de Kings of convenience
Les concerts à venir à Ramonville saint Agne